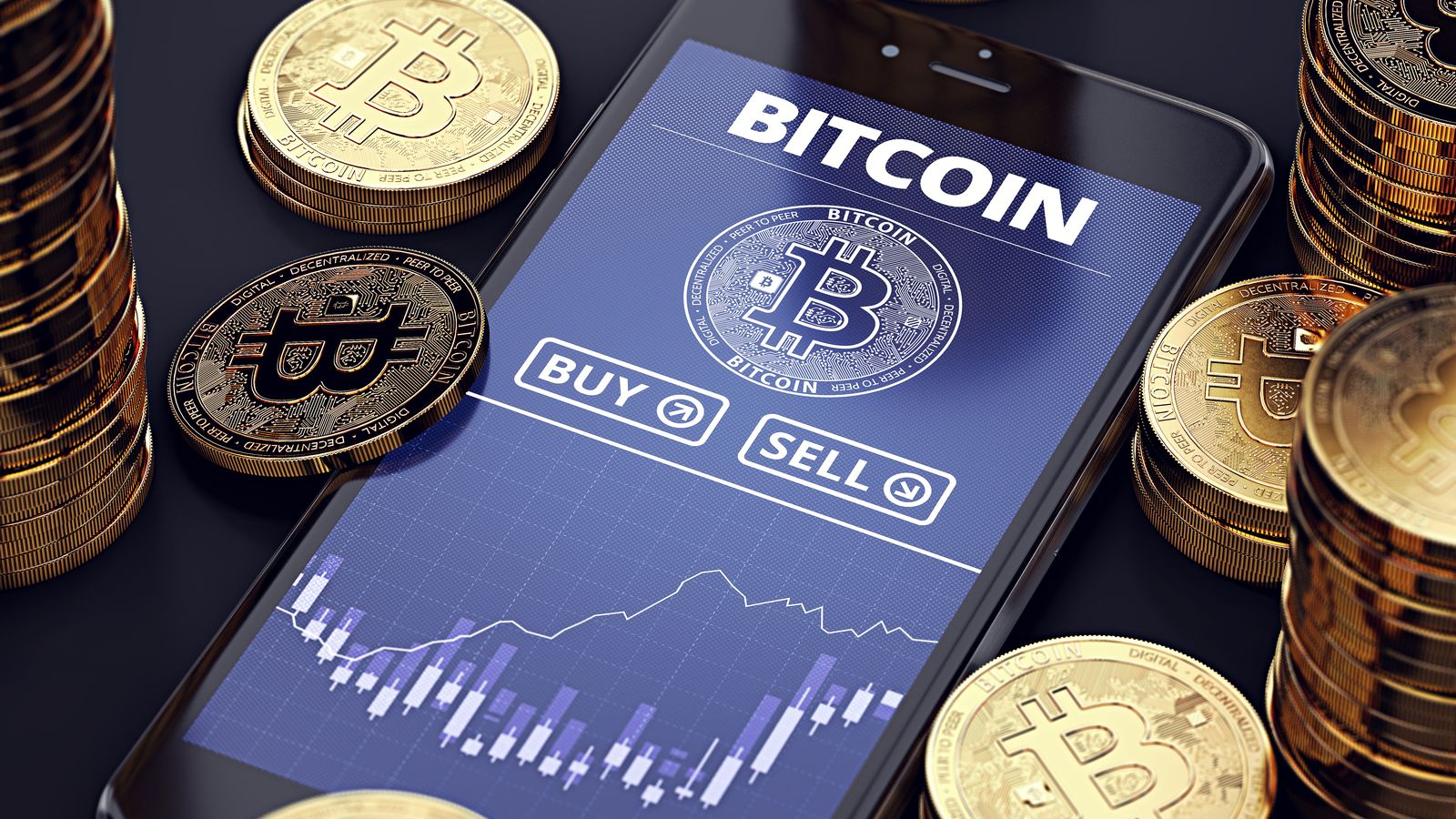 2021-02-13 08:00:00
Latest Bitcoin Breakout Highlights an Overlooked Opportunity
You know me as a long-term investor in hypergrowth themes and stocks.
To me, that's the best way to build your wealth and realize your financial dreams. That's why we talk a lot about the massive, exciting trends changing our world and making investors rich.
So here's one thing you may not know about me …
I'm an avid chart reader.
I learned the importance of charts and how to really read them in my first job (as a stockbroker) from a mentor who has stayed a lifelong friend.
This was before smartphones, which means I learned the old-fashioned way — at happy hour after work.
On "bev naps" — those little napkins you get with your drink — we would draw charts, map out strategies, and anything that would give us an edge.
I still have a few of those napkins. They contain some of the best investing lessons I've ever learned.
That includes about breakouts, which is when a stock or other asset class "breaks out" to higher prices on big volume.
Breakouts are significant on many levels, and they are often a prelude to much higher prices.
I know 2021 is only six weeks old, but we've already witnessed a significant breakout that may go down as one of the greatest in history…
If you've been following bitcoin at all, you know exactly what I'm talking about.
I'm extremely bullish on bitcoin, blockchain, and especially smaller cryptocurrencies known as altcoins. (We just talked more about the opportunity in the new Crypto Investor Network Monthly issue released yesterday.) They are the kind of hypergrowth investments I love in transformational technologies that will change our world and make smart investors a ton of money.
But wow!
The world's largest cryptocurrency has been on an amazing run … up 162% in just three months, even with a pretty steep pullback thrown in.
The first breakout came in December when bitcoin rallied above $20,000 for the first time ever. This sparked a social media frenzy as long-term bitcoin believers rejoiced, and it kept right on going.
Less than a month later, bitcoin more than doubled to $41,000.
It pulled back to $30,000 in late January, bouncing right off the 50-day moving average before marching higher and breaking out yet again to nearly $50,000.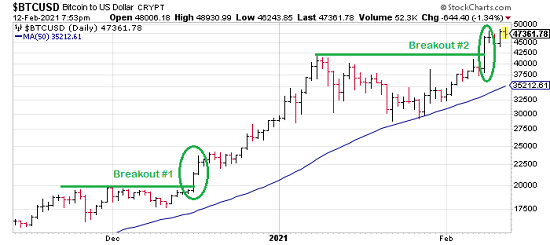 My friend Charlie Shrem and I think the action in bitcoin the last couple of months is one of the most important events in the cryptocurrency sector since bitcoin started it all in 2009. And Charlie was around practically at the beginning.
The breakouts and follow-through prove that bitcoin and its smaller peers — the altcoins we follow in Crypto Investor Network — are here to stay.
Perhaps the most significant announcement in the past month came from Tesla (NASDAQ:TSLA), the largest automaker in the world by market capitalization and the world's leading electric vehicle (EV) manufacturer.
Tesla announced on Monday that it bought $1.5 billion worth of bitcoin to "further diversify and maximize returns on our cash." The company didn't hold back. That $1.5 billion purchase accounted for nearly 8% of the $19 billion in cash and cash equivalents Tesla had on hand six weeks ago at the end of last year.
But that wasn't all. The company plans to begin accepting bitcoin as payment for its products and services, making it the first big automaker to take that step.
Don't underestimate the significance of this from an influential company with an influential CEO in Elon Musk. He personally has ramped up his public support for bitcoin, especially on Twitter. He added bitcoin to his Twitter handle and said "it was inevitable" when traders turned to cryptocurrencies after Robinhood limited trading in certain stocks.
Beyond price action is the implication of such a major move from a major company. One analyst, Daniel Ives of Wedbush, said it would have a "ripple effect across corporations around the globe."
Along the way, the smaller altcoins in our portfolio surged about 165% on average in just the last month, bringing our portfolio's overall return to more than 260% in a little under five months since we started.
That's huge, and we see even bigger gains ahead. There is a massive amount of money flowing into cryptocurrencies right now as bitcoin and altcoins cannot be ignored by large firms anymore. We're seeing more money managers, hedge funds, large institutions, and even publicly traded companies turn to cryptocurrencies and the blockchain technology that they run on.
This big money realizes that if they don't adopt a plan today, they will be left behind.
Cryptos and the blockchain technology they are built on are going to change everything. The way you buy everyday goods and services … purchase a home … pay your taxes … even how you order a pizza.
This transformation is already underway, but the truly seismic shift — when the massive profits are made — is coming as businesses, consumers, and those big-money investors realize what's going on.
We're seeing that now, and that's why we recently added a new altcoin in Crypto Investor Network. Moving money in the future will take place squarely on the blockchain, and our new buy is one of the best positioned altcoins to capture a chunk of this multi-trillion-dollar industry.
Ignoring cryptocurrencies and the blockchain would be similar to ignoring the advent of the internet.
I don't want anybody to miss this opportunity to be at the forefront of the next big technological revolution moving into the mainstream in the Roaring 2020s.
On the date of publication, Matthew McCall did not have (either directly or indirectly) any positions in the securities mentioned in this article.
Matthew McCall left Wall Street to actually help investors — by getting them into the world's biggest, most revolutionary trends BEFORE anyone else. Click here to see what Matt has up his sleeve now.