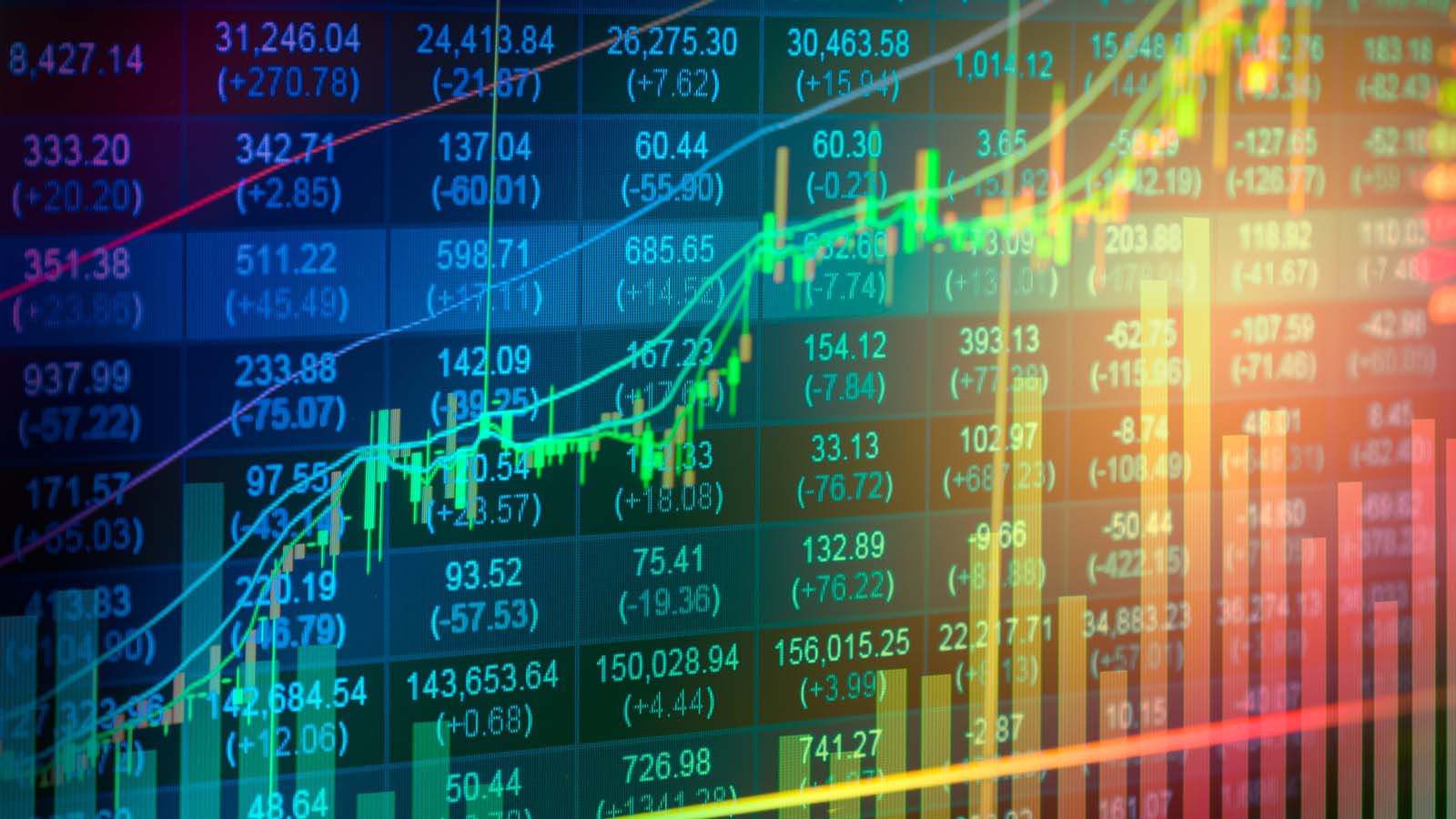 2021-03-23 21:01:22
Here Comes the Big Money
What were you doing one year ago today?
If you were investing at the time, you were probably licking your wounds.
The stock market hit bottom exactly one year ago today in the fastest bear market in history. All three major indexes got hit with more than 30% losses in just four weeks as fears of the spreading pandemic took hold.
Pretty much everything got crushed in the "sell first, ask questions later" panic. Bitcoin lost more than 40% of its value in that same time.
And look where we are one year later: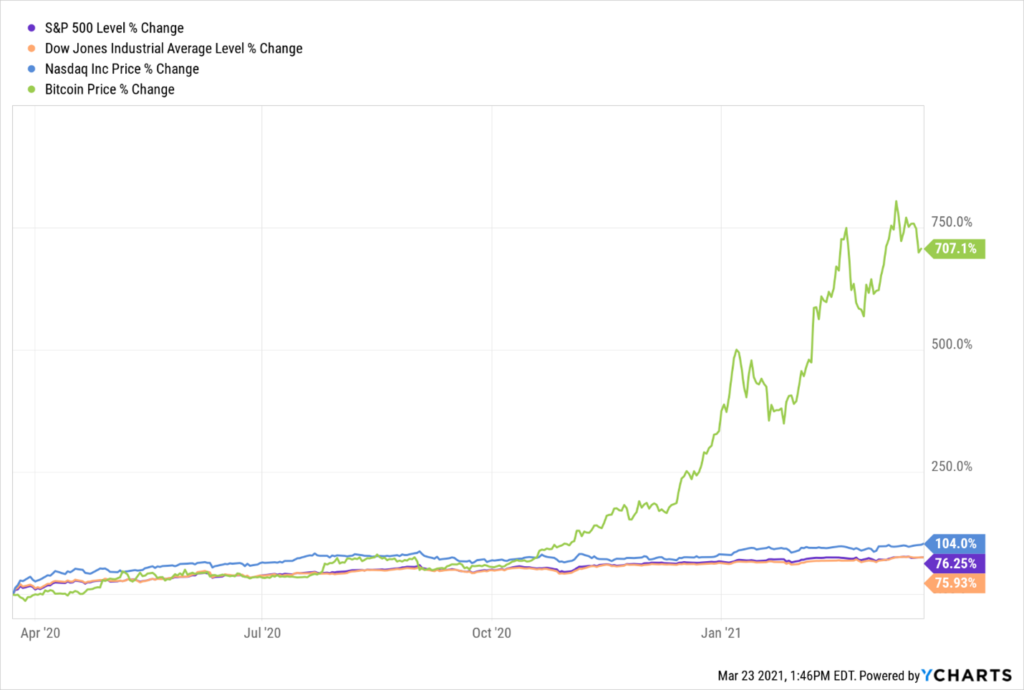 There was a lot of money to be made in there — especially in bitcoin (the green line up more than 700%).
The multiple breakouts to all-time highs in bitcoin and smaller cryptocurrencies (called "altcoins") were the most significant price action in any asset class over the past year.
Here's what's you may not know about these all-time highs and why there is so much more to come…
As bitcoin's prices surged at the end of last year and here in 2021, interest in the crypto space surged along with it. It seems like everybody wanted to know more about the first, biggest, and best-known cryptocurrency.
Take a look at the chart below, which shows search interest in bitcoin from the market's bottom through today, according to Google Trends. You can see that people started looking for more information toward the end of last year when bitcoin started its breakouts. That 100 line is peak interest early in 2021, and it has stayed high here in the first quarter.

This interest is part of what we'll discuss in The Main Street Revolution Event, which is now less than 24 hours away. It's tomorrow — Wednesday, March 24 at 4 p.m. ET — and it's free to attend. Simply click here to register and you're all set.
Here's the really exciting part about the spiking interest in bitcoin. It isn't just the masses looking for more information…
Big money continues to move into the sector.
This latest push to new highs was driven by the big money coming in. Institutions, wealthy investors, and even corporations led the way. That's a significant change from bitcoin's first 10 years of existence, when it was more individuals.
Square (NYSE:SQ) and MicroStrategy (NASDAQ:MSTR) kicked off the corporate crypto movement last year when they purchased bitcoins to diversify their treasuries away from cash. Last month, Tesla (NASDAQ:TSLA) joined the club when it bought $1.5 billion worth of bitcoin to "further diversify and maximize returns on our cash."
That $1.5 billion purchase accounted for nearly 8% of the $19 billion in cash and cash equivalents it had on hand at the end of 2020. And one month later, that position was worth $2.5 billion.
Tesla is the only company among the 10 largest market caps to shift some of its corporate treasury away from cash and into bitcoin… so far. But just imagine if — or more likely when — the likes of Apple (NASDAQ:AAPL), Microsoft (NASDAQ:MSFT), Alphabet (NASDAQ:GOOGL), and Facebook (NASDAQ:FB) jump on board.
Companies find themselves at a crossroads right now. Cash earns little to no interest, and with the possibility of higher inflation, it could even decrease in value. Cryptocurrencies are increasingly sought-after alternatives, as they offer a potentially more secure and better way to lessen the risk of holding cash.
At the end of last year, U.S. corporations held a record $2.5 trillion in cash. I expect more companies will add bitcoin and other top cryptocurrencies as alternatives to cash… and as strong investments in themselves. That's a staggering amount of money, and it would have a huge impact not only on bitcoin but smaller, lesser-known altcoins with even greater long-term potential.
Wall Street wants in, too. Paul Tudor Jones, one of the most successful and influential investors in history, is a big buyer of bitcoin. JPMorgan CEO Jamie Dimon called anyone who owned bitcoin "an idiot" in 2016. Today, it's one of his firm's largest holdings, and JPMorgan even has its own cryptocurrency.
Ray Dalio of the famous Bridgewater Hedge Fund may be heading down a similar road. His fund manages over $125 billion, and while he is apparently not buying bitcoin — yet — he acknowledged in a note at the end of January that it "has features that could make it an attractive storehold of wealth."
We are also seeing major banks and investment firms continue moving into the space by participating in funding rounds of cryptocurrency companies seeking to raise money.
Here's just one example: NYDIG, a leading technology and financial services firm dedicated to bitcoin, facilitated MassMutual's $100 million bitcoin buy last year. It recently raised $200 million from a team of well-known investors that includes Stone Ridge Holdings Group, Morgan Stanley, New York Life, MassMutual, Soros Fund Management, and FS Investments.
Governments, businesses, and individuals are awakening to blockchain's transformational impacts, and this should drive the prices of bitcoin and the best altcoins to never-before-seen heights.
Cryptos are being used in more places by more people all the time, and this massive disruption creates a once-in-a-lifetime financial opportunity for investors who act today.
That's why this information is so important to investors. I can't wait to share more with you in The Mainstreet Revolution Event. It only takes a second to sign up by clicking here now.
I look forward to talking with you tomorrow.
On the date of publication, Matthew McCall did not have (either directly or indirectly) any positions in the securities mentioned in this article.
Matthew McCall left Wall Street to actually help investors — by getting them into the world's biggest, most revolutionary trends BEFORE anyone else. Click here to see what Matt has up his sleeve now.