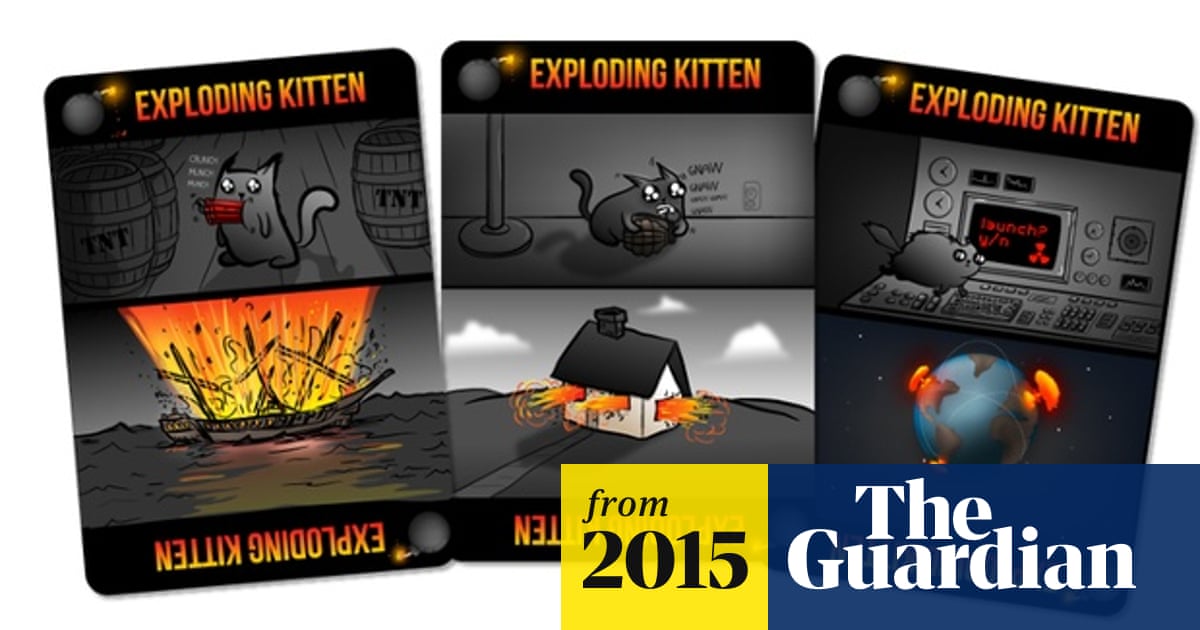 2015-02-23 08:00:00
Exploding Kittens card game raises $8.8m on Kickstarter | Kickstarter
Card game Exploding Kittens has become the third biggest Kickstarter campaign of all-time, raising $8.8m (£5.7m) on the crowdfunding website.
The game's initial funding goal was just $10k, but it attracted 219,382 backers for its promised mix of "kittens and explosions and laser beams and sometimes goats" during its 30-day campaign.
That put Exploding Kittens behind only drinks cooler Coolest and smartwatch Pebble in Kickstarter's most-funded list, with those projects having raised $13.3m and $10.3m respectively.
However, Exploding Kittens is the most popular project ever in terms of the number of backers, according to Kickstarter, more than doubling the previous record of 105,857 backers held by children's literacy project Reading Rainbow.
The card game was created by former Xbox executives Elan Lee and Shane Small, and Matthew Inman, creator of popular online comics site The Oatmeal.
"On the very first day of this campaign, we hit our funding goal. That was a big deal. But after that, the campaign stopped being about money, and started being about a community," they wrote in an update to backers as the crowdfunding campaign ended.
"We decided that everything we did from that point on would be to celebrate you guys, and help you celebrate each other. In the last 30 days, you've broken a lot of records, but we wanted to highlight our favourite one: you made this the most fun Kickstarter to run of all time."
The first run of Exploding Kittens is due to ship in July, with 15,505 backers paying $20 or more for its basic deck, but 202,934 paying more than $35 for the "NSFW Deck" which includes bonus cards that aren't "kid friendly".
"Exploding Kittens is a highly strategic kitty-powered version of Russian Roulette. Players take turns drawing cards until someone draws an exploding kitten and loses the game," explained its Kickstarter pitch.
"The deck is made up of cards that let you avoid exploding by peeking at cards before you draw, forcing your opponent to draw multiple cards, or shuffling the deck.

The game gets more and more intense with each card you draw because fewer cards left in the deck means a greater chance of drawing the kitten and exploding in a fiery ball of feline hyperbole."
The Exploding Kittens team have been taking advice from the creators of Cards Against Humanity – a $15.6k Kickstarter success in 2011, which went on to sell more than 500,000 copies by mid-2013 – to ensure that "no matter how many people pledge, everyone gets their Exploding Kittens quickly after the campaign ends".