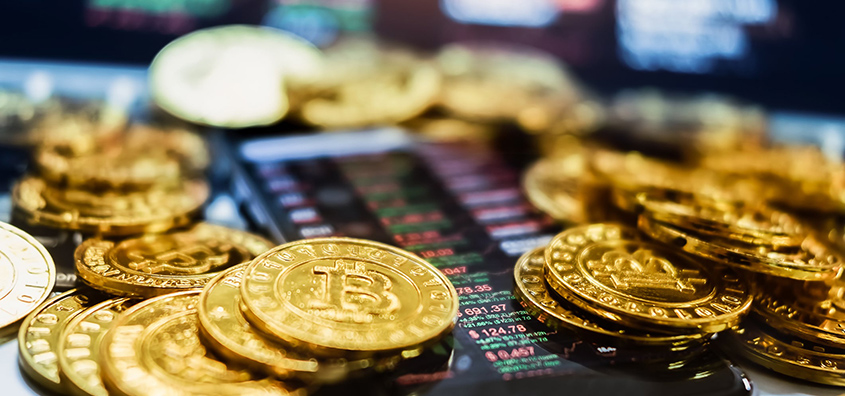 2021-03-30 14:09:56
ARK Invest CEO on Bitcoin "$1 Trillion is Nothing"
In the latest sign of acceptance, Visa will allow the use of digital currency to settle transactions on its payment network, according to Reuters. "We see increasing demand from consumers across the world to be able to access, hold and use digital currencies and we're seeing demand from our clients to be able to build products that provide that access for consumers," Cuy Sheffield, head of crypto at Visa added. That's also great news for cryptocurrency mining companies, including Graph Blockchain Inc. (CSE:GBLC)(OTC:REGRF), Bit Digital (NASDAQ:BTBT) Marathon Digital Holdings (NASDAQ:MARA), HIVE Blockchain Technologies Ltd. (OTC:HVBTF), and DMG Blockchain Solutions Inc. (TSXV:DMGI)(OTC:DMGGF).
Even better, ARK Invest CEO Cathie Wood just said, "If we add all of the potential demand relative to the limited supply, we come up with incredible numbers over the long term. We have just begun. One trillion dollars is nothing compared to where this ultimately will be," as quoted by Benzinga.
Graph Blockchain Inc. (CSE:GBLC)(OTC:REGRF) Just Acquired Cardano for PoS Mining
Graph Blockchain Inc. just announced that the Company has deployed capital into another cryptocurrency, Cardano's native token ADA, for the purpose of staking.
The Company allocated $300,000 of its staking capital into ADA on March 29, 2021. Additional information will be provided on Cardano as the project develops and progresses through its development phases. Paul Haber, CEO of Graph Blockchain Inc. commented, "We are exceptionally excited to be deploying funds into our second token purchase. We anticipate that we will be making further purchases shortly to further tokenize our cash position and diversify our growing crypto portfolio.
As outlined in previous news releases, Graph believes that in 2021, there is the potential for smart contract platforms to implement solutions to facilitate mass adoption on decentralized blockchains. Cardano is widely believed to be just the project to accomplish this, and Graph is excited to add ADA, to the Company's list of supported projects.
In addition, the Company has granted incentive stock options to directors, officers, advisor, and employees of the company to purchase up to 12 million common shares in the capital of the company, pursuant to the stock option plan of the company. The options are exercisable at a price of $0.125 per share and will expire two years from the date of grant.
Other related developments from around the markets include:
Bit Digital, an emerging bitcoin mining company, announced its unaudited Bitcoin production data for the month ended January 31, 2021.  During the month, the company earned 424.7 bitcoins, accounting for approximately $14.8 million in revenue.  As of January 31, 2021, the company held 488.5 bitcoins in treasury, versus 262.6 bitcoins as of December 31, 2021.
Marathon Digital Holdings, one of the largest enterprise Bitcoin self-mining companies in North America, announced that the Company has named William Beam to the position of Controller. Mr. Beam comes to the Marathon team as a senior-level financial executive with extensive finance, accounting, administration, and development experience in SaaS industries, regulated markets, and resort & casino operations. His career spans 20+ years with the proven ability to improve operations, impact business growth, and maximize profits. He is well-respected for a wide range of knowledge and experience, creative problem-solving skills, and recruiting and managing high performance teams, bringing an entrepreneurial mindset to the creation and strategic development of businesses in a variety of stages and industries.
HIVE Blockchain Technologies Ltd. announced that it has entered into a letter of intent with DeFi Technologies Inc. for a share swap arrangement, by which HIVE will receive 10,000,000 DeFi Technologies common shares, representing approximately 7% of the existing outstanding common shares of DeFi Technologies in exchange for 4,000,000 common shares of the Company, representing approximately 1% of the Company's issued and outstanding common shares.  The transaction, which does not involve any cash payment by either side, is expected to close on or about April 16, 2021 and is conditional on the completion of satisfactory due diligence by both parties and approval of the TSX Venture Exchange. In addition, HIVE and DeFi Technologies plan to create a partnership surrounding the decentralized finance (DeFi) ecosystem with specific applications around Ethereum and Miner Extractable Value (MEV).  The new partnership, which follows three months of discussions, will enable HIVE with a strategic stake in DeFi Technologies and a broader partnership surrounding the DeFi ecosystem with a specific focus on the Ethereum based MEV space and developments surrounding it.
DMG Blockchain Solutions, a vertically integrated blockchain and cryptocurrency technology company, and Argo Blockchain Plc, a UK-based global cryptocurrency mining company, are pleased to announce Terra Pool, the world's first Bitcoin mining pool powered by clean energy. Aligning with the latest climate science, Terra Pool will work to better manage the impact of Bitcoin mining on the climate. As founding shareholders and partners, DMG and Argo have entered into a Memorandum of Understanding to establish Terra Pool, a cooperative effort to launch a Bitcoin mining pool exclusively powered by clean energy. Initially, the Pool will consist of both DMG's and Argo's hash rate, which currently uses energy generated by hydroelectric resources.
Legal Disclaimer / Except for the historical information presented herein, matters discussed in this article contains forward-looking statements that are subject to certain risks and uncertainties that could cause actual results to differ materially from any future results, performance or achievements expressed or implied by such statements. Winning Media is not registered with any financial or securities regulatory authority and does not provide nor claims to provide investment advice or recommendations to readers of this release. For making specific investment decisions, readers should seek their own advice. Graph Blockchain Inc.
has paid three thousand five hundred dollars for advertising and marketing services to be distributed by Winning Media. Winning Media is only compensated for its services in the form of cash-based compensation. Winning Media owns ZERO shares of Graph Blockchain Inc. Please click here for full disclaimer.
Contact Information:

2818047972

[email protected]